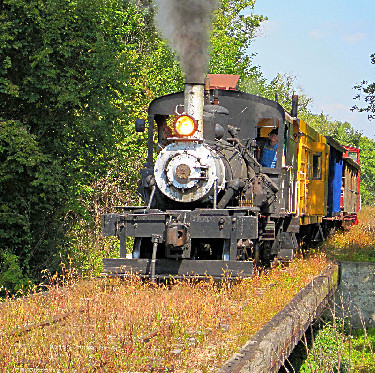 The Silver Creek and Stephenson Railroad of Freeport, Illinois is a not-for-profit educational organization, preserving America's historical railroad heritage.
Ride the Steam Train
The legends of railroading are filled with crack passenger trains speeding down the mainline to fame and glory. But, the golden age of railroading had another, more unsung hero in the numerous branchline trains that tied the small towns of a once more rural America to the outside world. These small workhorses had a sometimes eccentric and always fascinating appeal that is captured on our rustic track and equipment. Experience steam branch-line railroading behind our 1912 steam locomotive on a 3.4 mile round trip excursion into history.
See our schedule and plan your visit.
Note: Using antique equipment, substitutions must often be made when the intended equipment is out of order. This includes diesel locomotives substituting for steam.
Ride the Train of Terror
The Train of Terror runs on select October nights as a prelude to the spine-tingling thrills of halloween. Take a spook-tacular ride to the darkest corner of your nightmares.
Take the Throttle
Each year, the Silver Creek and Stephenson schedules a day of throttle time for those who have always dreamed of running the train. Click here for more information.


Equipment Roster
Follow this link for photographs and information about the locomotives and rolling stock on the Silver Creek and Stephenson Railroad.
The Silver Creek Museum
While you are in the neighborhood, visit The Silver Creek Museum containing 28 rooms of history in addition to a 130-ton stationary steam engine, still in operation.
A Short History of the Railroad
1982: The Stephenson County Antique Engine Club purchased the Heisler locomotive.
July 5, 1983: The Club purchased 1.72 miles of right-of-way from the bankrupt Milwaukee Road, which removed the rails and ties before the sale. The club salvaged rail from as far away as Mankato, MN and salvaged ties throughout Illinois.
May 28, 1985: Club members laid the first track.
May 1986: The train shed was built to house and maintain locomotives and rolling stock.
May 31, 1993: The Silver Creek depot was dedicated. It is based on plans from the Illinois Central depot in Eleroy Illinois. It houses the ticket office and a large display of memorabilia.